4 January, 2016
Baingan Chettinad (South Indian Style Spicy Eggplant Curry)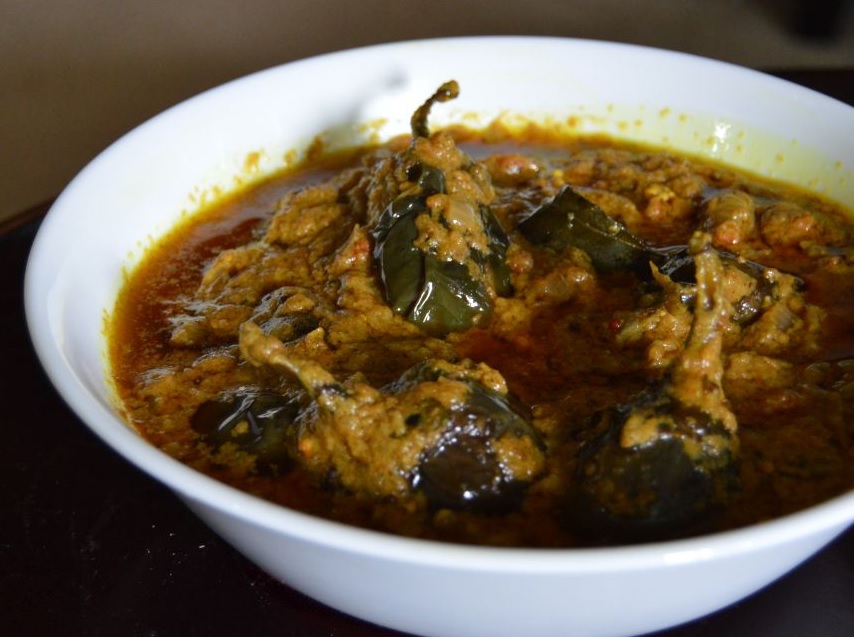 Posted in :
Desert Recipes
on
by :
archi
Baingan Chettinad is a popular dish made with eggplants/brinjal from South India. This is usually made quite spicy and goes well with boiled rice. I have used small eggplants and they are the best for this dish. This recipe serves 5-6 people.
Baingan Chettinad (South Indian Style Spicy Eggplant Curry)
Ingredients:
Small baingan/begun (eggplants/brinjals): 8 – 10
Pyanj (Onions): 1 large
Tomato: 1 large
Aada (Ginger): approximately 2 inch piece
Roshun (Garlic): 3-4
Kancha lonka (Green chillies): 2
Poppy seeds: 2 tbsp
Grated coconut (narkol kora): ½ cup
Salt: 1 tsp (according to taste)
Halud powder (Turmeric powder): ½ tsp
Lal lonka powder (Red chilli powder): 1 tsp
Green cardamom: 3-4
Cloves: 4-5
Cinnamon stick: 1 (about 2 inches)
Whole jeera (Cumin): 1 tsp
Whole dhania (Coriander seeds): 1 tsp
Gol morich (whole black pepper): 1 tsp
Shukno lonka (Dry red chilies): 2
Cholar dal (Bengal gram): 1 tbsp
Curry pata (Fresh curry leaves): 2 stems (8-10 leaves)
Saunf/Mouri (Fenugreek seeds): 1 tsp
Kalo shorshe (Black mustard seeds): 1 tsp
Vegetable oil: 1 cup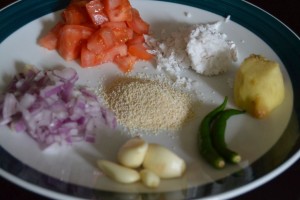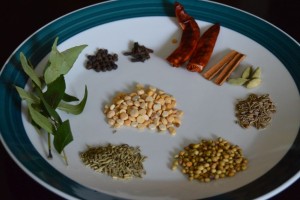 Preparation:
Prepare the eggplants by trimming the tops and making deep slits from the base, right up to the tops.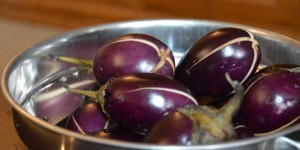 Finely chop the onion and set aside.
Finely chop the tomato and set aside.
Method:
Take about 1 tbsp oil in a kadai or saucepan and apply medium heat. When the oil becomes hot add the whole dry spices (cloves, cinnamon, cardamom, dry red chilies, coriander, curry leaves, Bengal gram, fenugreek seeds and black pepper). Stir constantly and continue frying for a few minutes until they turn brown and start crackling.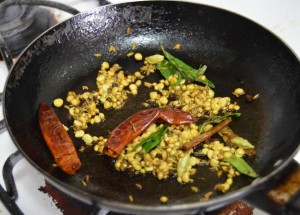 Transfer the fried spices to a mixer-grinder and grind them into a fine paste. Keep aside.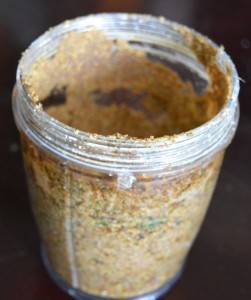 Place the garlic, ginger, poppy seeds, green chillies and grated coconut in a mixer-grinder cup along with about 2 tbsp water and make a smooth paste. Keep aside.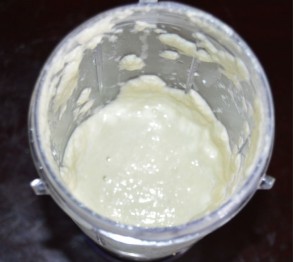 In the meantime take the remaining oil in the kadai or saucepan, and when it gets hot add the mustard seeds and curry leaves. When they start crackling add chopped onions and eggplants and stir well. Cover the vessel, reduce heat to low setting and continue cooking for about 10 minutes, occasionally removing the cover to stir so that the eggplants are cooked evenly on all sides. Covering the vessel also lets the steam to aid the cooking process. Remove only the eggplants from the cooking vessel and keep aside.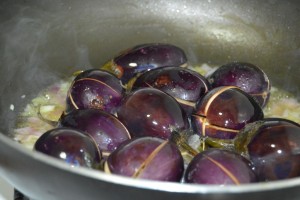 To the fried onions in the cooking vessel add the ginger-garlic-green chilly paste prepared earlier. Stir for a few minutes on medium heat. Add the chopped tomato and continue stirring for a few more minutes until the tomato pieces melt and a homogeneous mixture results.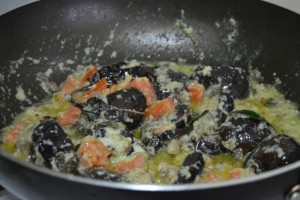 To the cooking vessel add the paste made from fried dry spices prepared earlier. Also add the salt, red chilly and turmeric powders. Again stir for a few minutes until the spices are well blended.
Then add about 1 cup water and the fried eggplants that were set aside earlier, stir to mix the ingredients well, cover cooking over low heat for another 5-6 minutes, with occasional stirring.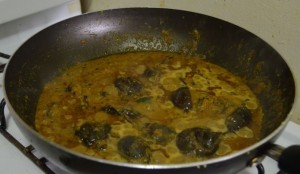 When the gravy reduces somewhat, remove from heat and transfer to a serving bowl. Enjoy!