11 January, 2016
Chicken 65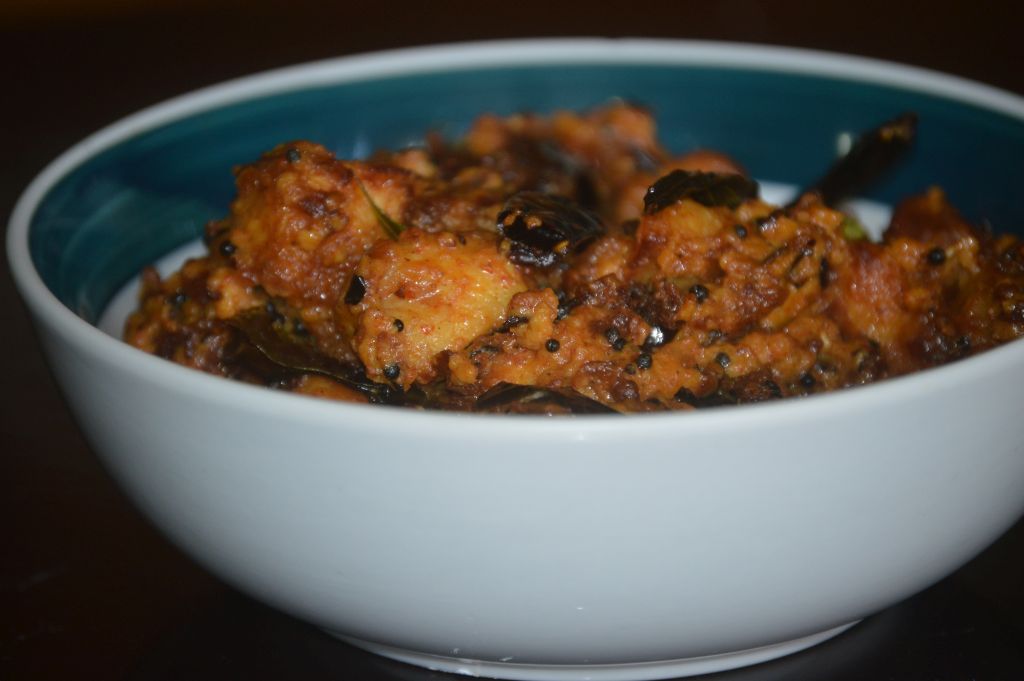 Posted in :
Indian Recipes
on
by :
archi
Chicken 65 is a starter item originating from South India. The origin of the name is not entirely clear but one theory is that it was invented in the year 1965, most likely in a Chennai restaurant. But regardless of its origins and name, this is a very tasty starter, and one of my favorites. This basically involves three main steps: margination, deep frying the chicken pieces and sautéing with yoghurt and spices at the end. This recipe serves 5-6 people.
Chicken 65
Ingredients:
Chicken breast or thigh pieces: 1 lb
Lemon juice: 1 tbsp
Curd/Yoghurt: 1 cup
Ginger-garlic paste (for margination): 1 tbsp
Salt: ½ tsp (according to taste)
Haldi powder (Turmeric powder): ½ tsp
Lal lonka powder (Regular red chilli powder): 1 tsp
Curry leaves: 2 steps (15-16 leaves)
Vegetable oil: 1 cup
Sarson (Black mustard seeds): ½ tsp
Cumin seeds (Whole Jeera): ½ tsp
Shukno Lonka (Dry red chilies): 4-5
Preparation:
Cut the chicken in small pieces, about ½ inches per side.
Strain the yoghurt to remove water. This enables the marinade to easily adhere to the chicken pieces.
In a large bowl take the chicken pieces, and all the ingredients for the marinade (half of the strained yoghurt, lemon juice, ginger-garlic paste, turmeric powder, red chili powder, salt). Mix well and place in refrigerator for at least two hours.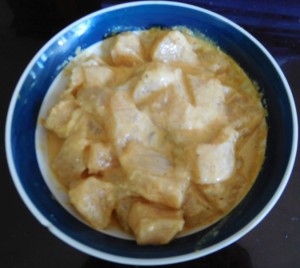 Method:
Take the cooking oil in a deep saucepan or kadai and place on high heat. When the oil starts smoking add the chicken pieces and deep-fry for about 8-10 minutes, until they turn golden-brown, stirring constantly. Remove the chicken pieces from saucepan and place on absorbent paper lined plate or bowl.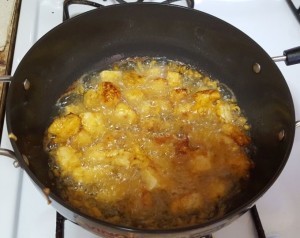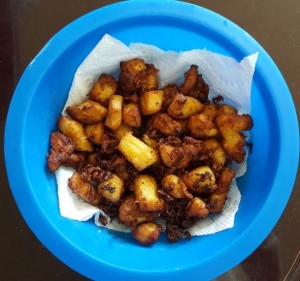 Drain most of the cooking oil from the saucepan, retaining about 2 tbsp for the next step. Continue applying high heat. When the oil gets hot add mustard seeds, cumin seeds, curry leaves and dry red chilies. Continue stirring for about two minutes, until the seeds start splattering.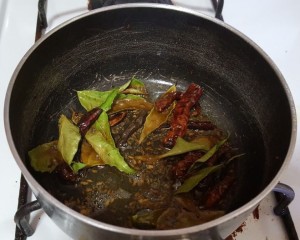 To the saucepan add the remaining yoghurt and the fried chicken pieces. Continue stirring for about 4-5 minutes, until the water disappears completely and the chicken pieces are evenly coated with the reduced gravy.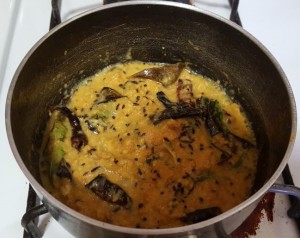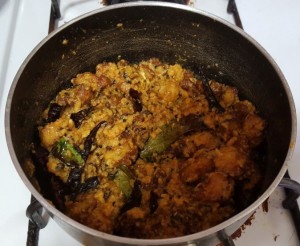 Transfer to a serving plate and garnish with onions (optional). Enjoy!