24 January, 2016
Sabudana Khichdi (Spicy tapioca snack)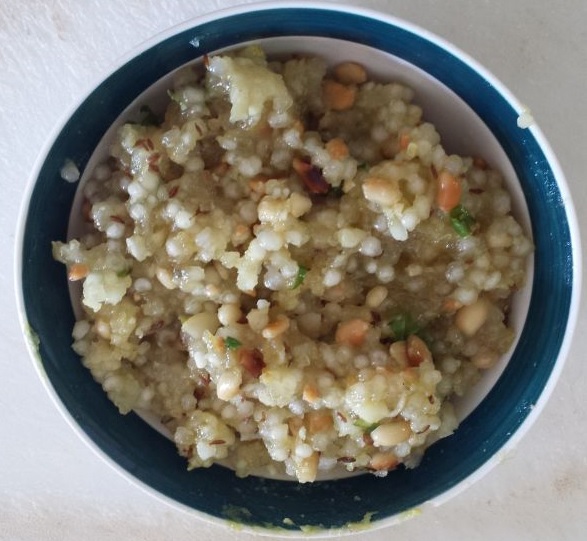 Posted in :
Indian Recipes
on
by :
archi
This recipe comes from Maharashtra. However, this has become popular throughout the country now and can be found in homes and roadside eateries all over, with several variations. Another attraction of this dish is that it can be consumed on days of fasting as this is filling and does not contain rice. Here I am providing the recipe for the traditional Maharashtrian version. Then it serves as the main dish. This recipe serves 5-6 people.
Sabudana Khichdi (Spicy tapioca snack)
Ingredients:
Sabudana (Tapioca pearls): 1 cup
Aloo (Potato): 1 large
Peanuts: ½ cup
Kancha Lonka/Hari mirch (Green chilies): 1
Aada/adrak (Grated ginger): 1 tsp (optional)
Curry patta (Curry leaves): 1 stem/8-10 leaves (optional)
Narkol kora/naryal (Grated coconut): ¼ cup (optional)
Whole jeera (Cumin): 1 tsp
Bitnun/sendha namak (Rock salt): ½ tsp (according to taste)
Cheeni (Sugar): ½ tsp (according to taste)
Dhone pata/dhania patta (Fresh coriander leaves): 1 tbsp, finely chopped for garnishing (optional)
Vegetable oil: 2 tsp
Preparation:
Wash the sabudana thoroughly in cold water and strain well. Soak it for at least 1 hour, or even overnight.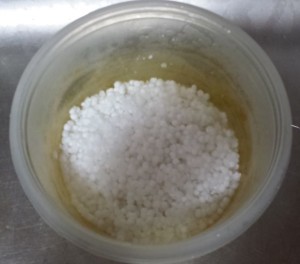 Peel and finely chop the potato into small cubes.
Finely chop the green chilly.
Method:
Roast the peanuts until golden-brown, and de-skin if required. Then crush them coarsely in a mortar and pestle. Take care to not pulverize the roasted peanuts completely, as the coarse pieces will provide texture to the dish. Set aside.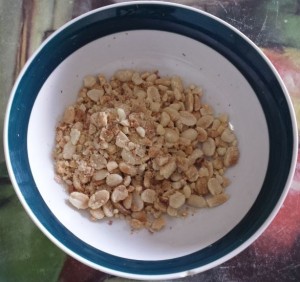 Boil the potatoes, drain and keep aside. Optionally you can mash the potato also.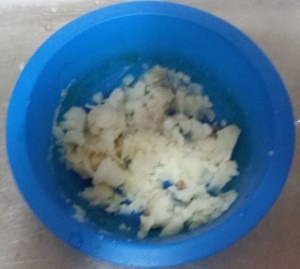 Strain the soaked sabudana and place in a large vessel. Add roasted and crushed peanuts, rock salt and sugar. Mix well and keep aside.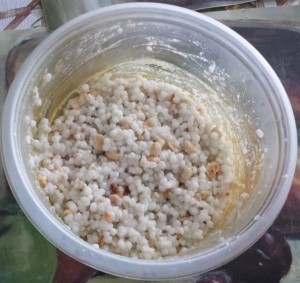 In a saucepan take the vegetable oil and apply medium heat. When the oil gets hot, add jeera and stir occasionally. When the jeera starts crackling add chopped green chilly and curry leaves (optional). Then add the grated ginger and continue stirring for about 1 minute until the raw ginger smell disappears.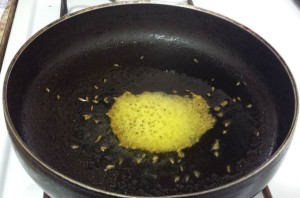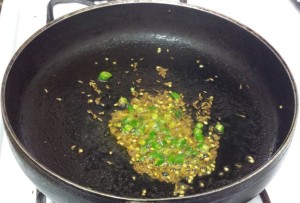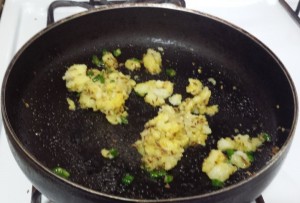 Then add the chopped or smashed potato and stir for about 1 minute. Then add the sabudana, peanut, salt and sugar mixture. Continue stirring constantly for about 2 minutes until the sabudana turns translucent, and the ingredients are mixed well. Do not overcook, as the sabudana will turn chewy. If using grated coconut, add that now and stir a few times to mix well.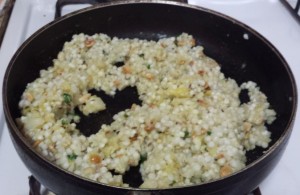 Remove from heat and transfer to serving vessel. Garnish with chopped coriander leaves (optional). Enjoy!