21 February, 2016
Dal Makhani (Spicy Dark Lentils)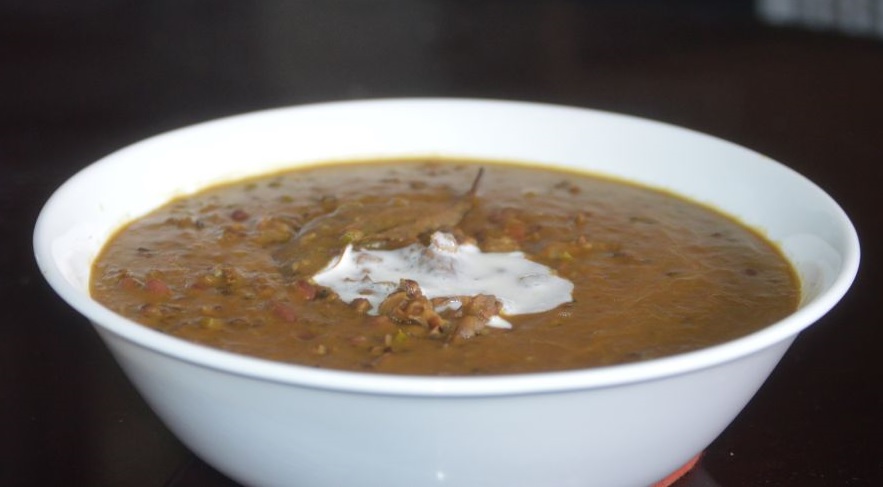 Posted in :
Indian Recipes
on
by :
archi
Dal Makhani is an extremely popular dish from North India, and is ubiquitous in Punjab. No Punjabi meal is complete without this dish. This has a creamy flavor and is ideal for cold winter nights. This goes very well with steamed rice, but can also be had with nan or chapattis. This recipe serves 6-8 people.
Dal Makhani (Spicy Dark Lentils)
Ingredients:
Whole urad dal (black lentils): 1 cup
Rajma (Red kidney beans): 1/3 cup
Pyanj (Onions): 1 large
Tomato: 1 large
Ginger-garlic paste: approximately 2 inch piece
Roshun/Lasan (Garlic): 3-4
Kancha lonka (Green chillies): 2
Salt: 1 tsp (according to taste)
Halud/haldi powder (Turmeric powder): ½ tsp
Lal lonka powder (Red chilli powder): 1 tsp
Green cardamom: 3-4
Cloves: 4-5
Cinnamon stick: 1 (about 2 inches)
Tej patta (Bay leaves): 2-3
Garam masala powder: 1 tsp
Dhania powder (Ground coriander seeds): 1 tsp
Whole jeera (Cumin): 1 tsp
Kasuri methi (dry fenugreek leaves): ¼ tsp
Cream (light or heavy): about 1/3 cup
Butter: 3-4 tbsp
Preparation:
Soak the lentils overnight. Drain the water and then add about 3 cups of fresh water before the next steps. Alternately, pressure cook for about 15 minutes (about 10 whistles), in about 3 cups of water.
I have used canned red kidney beans, which are pre-cooked. If you are using dry red kidney beans, then soak them overnight with the black lentils or pressure cook as described above.
Finely chop the onion and set aside.
Finely chop the tomato and set aside.
Peel and mince the garlic cloves.
Method:
In a kadai or saucepan add the butter and apply medium heat.
When the butter melts add the whole spices – cumin, cardamom, cloves cinnamon and bay leaves). Sauté for a few minutes until the spices become aromatic.
Then add the finely chopped onions and sauté for several minutes, until they turn golden-brown.
Then add the ginger-garlic paste and the minced garlic and sauté for a couple of more minutes, until the raw smell disappears. Add the green chillies and continue sautéing.
Add the chopped tomato and mix well. Sautee for a couple of more minutes.
Then add the powdered masalas (coriander, red chilly and garam masala) and continue sauteeing for a few minutes until the fat starts separating.
Then add the lentils and rajma, and stir well for a couple of minutes.
Then transfer to a pressure cooker and cook for about 15 minutes (approximately 10 whistles).
Then remove the pressure cooker lid and continue to cook over medium flame, while stirring continuously. You may add a little water if the dal seems too thick.
Add the salt and kasuri methi. At this stage also add the cream, stir well and remove from flame.
Transfer to serving bowl and garnish with some fresh cream and optionally some chopped coriander leaves. Enjoy!