28 March, 2016
Chilli Garlic Shrimp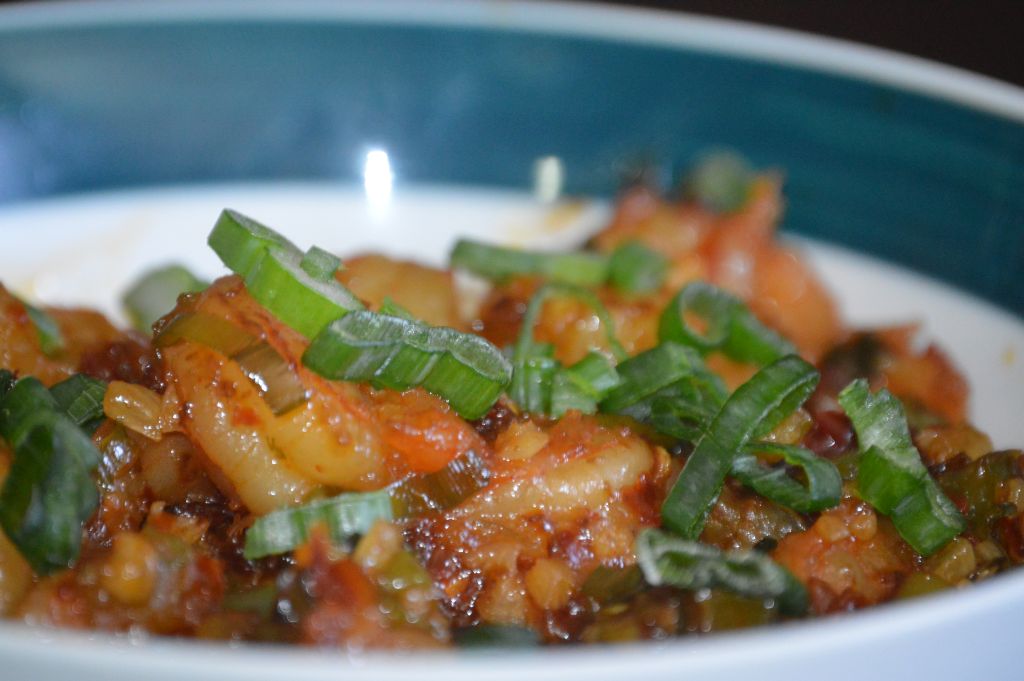 Posted in :
International Cuisine
on
by :
archi
Tags:
Chilli garlic shrimp
Chilli garlic shrimp is a very tasty starter that originates from Chinese cuisine. This can also serve as a snack, so it is a good option when I get unexpected guests. As with most Indo-Chinese dishes cooking time is quite less, and the list of ingredients is quite short as well. Shrimp may also be substituted by chicken, or paneer or cauliflower also – and it still tastes good. This recipe serves 7-8 people.
Chilli Garlic Shrimp
Ingredients:
Shrimp (cleaned and de-veined): 1.5 lbs (medium to large sized)
Red chili sauce: 2 tbsp
Tomato ketchup: 1 tbsp
Red chili flakes: 1 tsp
Salt: 1 tsp (according to taste)
Corn-flour/cornstarch: 2-3 tbsp
Garlic: 8-10 cloves
Spring onions: 4-5 stems (greens and bulbs)
Black pepper: ½ tsp
Vegetable oil: 1 cup
Lemon juice: about 1 tsp
Preparation:
Peel and finely chop the garlic cloves.
Finely chop the spring onion greens and bulbs separately and set aside.
Remove any shells and veins from the shrimps and clean thoroughly and place them in a large bowl. Then add corn-flour, crushed black pepper, half of the salt and about a quarter of the finely chopped garlic. Mix well so that the shrimp are well coated and keep aside.
Method:
Take the cooking oil in a deep saucepan or kadai and place on high heat. When the oil starts smoking add the coated shrimp and fry for 3-4 minutes, until they start turning golden brown. Remove the shrimp and keep aside.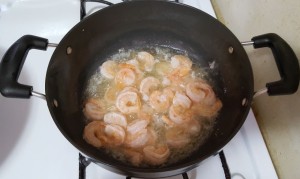 In the same oil add the remaining chopped garlic and sauté for about a minute. Then add the spring onion green and bulbs, saving some greens for final garnishing. Add the chili flakes and stir for about a minute.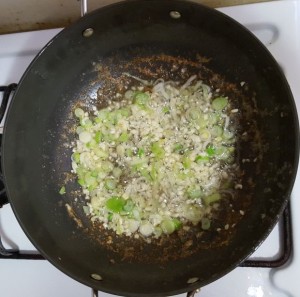 Then add the red chili sauce and tomato ketchup and stir for another minute. Then add the fried shrimp and continue stirring for 2-3 minutes making sure that the shrimp are well coated with sauce. Optionally you may also add about ½ cup water and cook the mixture for 3-4 minutes, until the sauce reduces.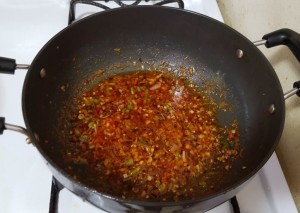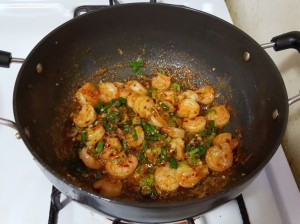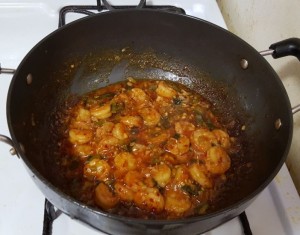 Transfer to a serving bowl and garnish with remaining spring onion greens and coriander leaves (optional). Enjoy!