30 March, 2016
Shrimp Shahi Korma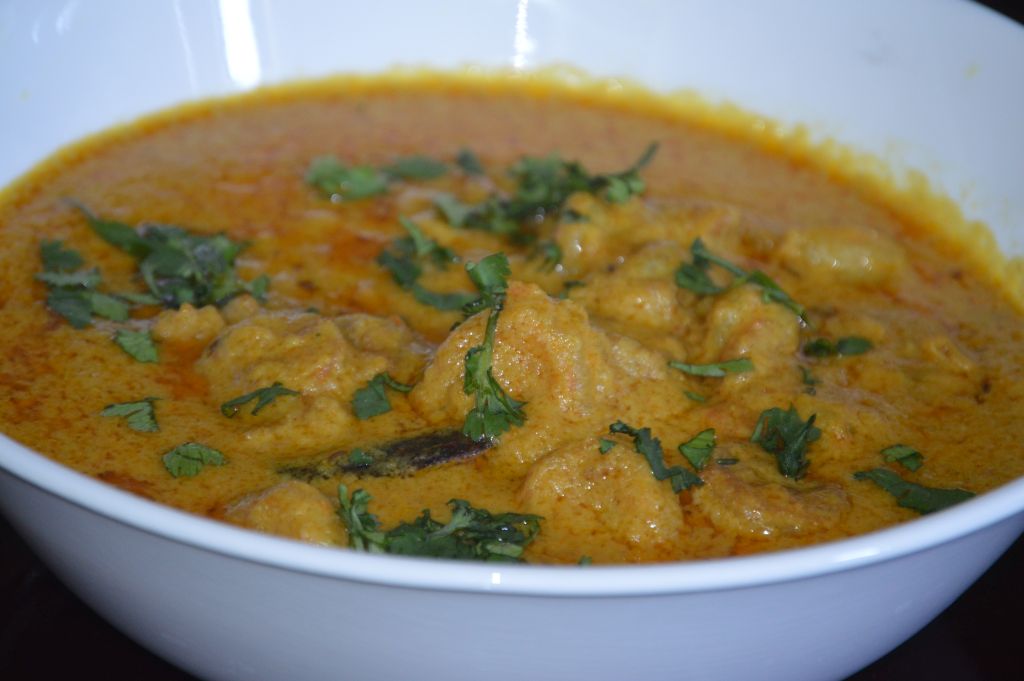 Posted in :
Indian Recipes
on
by :
archi
Shrimp Shahi Korma is a mildly flavored dish, with a nutty flavor. The korma sauce is usually made with yogurt, cream and nuts. This is a popular North Indian dish derived from Mughlai cuisine. This dish has a light colored sauce, and has a rich texture due to use of cream and cashew nut paste. I use coconut milk too for added flavor. This goes well with hot naan bread, but can also be enjoyed with steamed rice. This recipe serves 7-8 people.
Shrimp Shahi Korma
Ingredients:
Medium to large sized shrimp: 1.5 lb.
Pyanj (Onions): 1 large
Tomato: 1 large
Ginger paste: 1 tbsp
Garlic paste: 1 tbsp
Poppy seeds: 2 tbsp
Kaju (cashew nuts): about 10
Salt: 1 tsp (according to taste)
Haldi/Halud powder (Turmeric powder): 1 tsp
Lal lonka powder (Red chili powder): 1 tsp
Green cardamom: 3-4
Cloves: 4-5
Cinnamon stick: 1 (about 2 ½ – 3 inch long)
Whole shahi jeera (Cumin): ½ tsp
Garam masala: 1 tsp
Jeera powder (Cumin powder): 1 tsp
Dhania powder (Coriander seed powder): 1 tsp
Heavy cream: 1/3 cup  (may be substituted by 3 tbsp. yoghurt)
Coconut milk: ½ cup
Tej patta (Bay leaves): 1-2 leaves
Coriander leaves (optional, for garnishing): about 8-10 leaves
Vegetable oil: ½ cup
Preparation:
Soak the cashew nuts in warm water for 30 minutes and then remove the nuts and place them in a mixer-grinder along with the poppy seeds and a little water. Blend them together for a few minutes to form a smooth paste.
Carefully de-vein and remove any remaining shells from the shrimps. In a large bowl take the shrimp, some of the salt and turmeric powder, setting aside the rest for later use in cooking. Mix well and set aside for at least two hours.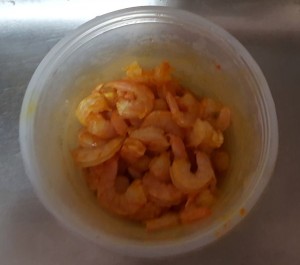 Peel and coarsely chop the onion and set aside. Place in mixer-grinder with a small amount of water and form a smooth paste.
Coarsely chop the tomato and puree in a mixer-grinder. Set aside.
Method:
Heat the oil in a kadai or saucepan. Add the marinated shrimps, and fry for a few minutes until golden-brown. Remove from saucepan and set aside.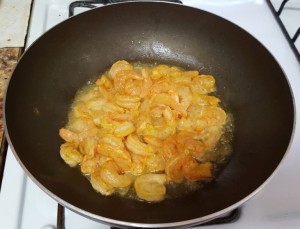 To the hot oil in the saucepan add the whole garam masala (bay leaves, shahi jeera, green cardamom, cinnamon and cloves), and sauté for about a minute until they start splattering.
Then add the onion puree prepared earlier and sauté for about 2 minutes until the mixture starts acquiring a darker color. To this add ginger and garlic pastes and continue sautéing for a couple more minutes until fully cooked.
To the mixture in the saucepan add the remaining spices (turmeric powder, chilli powder, salt, jeera powder, coriander powder, garam masala) and stir thoroughly. Continue cooking for a few minutes until the oil starts separating from the mixture.
Then add the tomato puree and continue stirring for about a minute. Then add the cashew and poppy seed paste prepared earlier, and continue stirring for 1-2 minutes more. Then add about 2 cups water and continue stirring occasionally.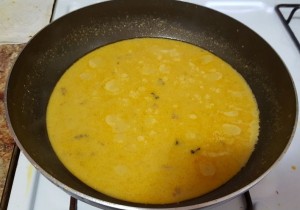 When the mixture comes to a boil add the shrimps and stir well. Reduce flame, cover and continue cooking for about 10 minutes until the shrimps are cooked thoroughly.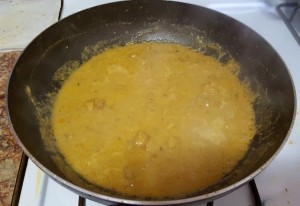 Finally add the cream, stir until it is well mixed and remove from flame.
Transfer to a serving bowl and garnish with finely chopped coriander leaves (optional). Enjoy!