8 April, 2016
Vendakkai Poriyal (South Indian Style Bhindi/Okra Fry)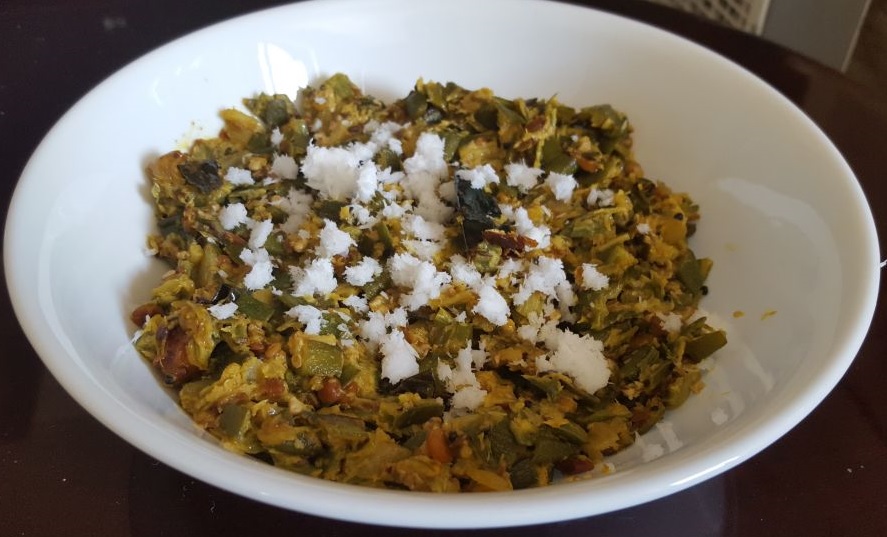 Posted in :
Indian Recipes
on
by :
archi
Today I will share the recipe for Vedakkai Poriyal, which is South Indian style okra fry. I had this dish at a restaurant and absolutely loved it, and decided to try it out myself. This dish of course goes well with rice, but since is a dry dish, it can be had with roti/chapatti/Indian bread also. This recipe serves 5-6 people.
Vendakkai Poriyal (South Indian Style Bhindi/Okra Fry)
Ingredients:
Bhindi (Okra): 1 lb.
Pyanj (Onions): 1 medium
Grated coconut (narkol kora): ½ cup
Salt: 1 tsp (according to taste)
Halud powder (Turmeric powder): ½ tsp
Lal lonka powder (Red chilli powder): ½ tsp
Subzi masala: 1 tsp
Shukno lonka (Dry red chilies): 2
Chana dal (Bengal gram): 1 tbsp
Urad dal (Black lentils): 1 tbsp
Curry pata (Fresh curry leaves): 2 stems (8-10 leaves)
Kalo shorshe (Black mustard seeds): 1 tsp
Whole jeera (Cumin): 1 tsp
Mungfali (Peanuts): 2 tbsp
Vegetable oil: ½ cup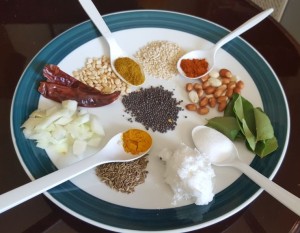 Preparation:
Wash the okra in running cold water and shake off excess water completely. Chop the okra in ½ inch pieces and set aside.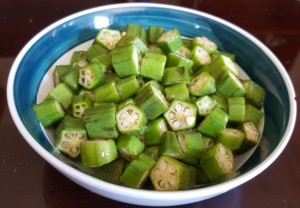 Peel and finely chop the onion and set aside.
Method:
Add medium heat to the oil in a saucepan or kadai. When bubbles form, add the mustard seeds, cumin, curry leaves, dry red chilies, Bengal gram, black lentils and groundnuts and stir for a couple of minutes until the lentils and groundnuts turn golden-brown.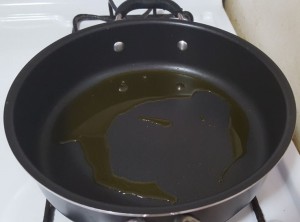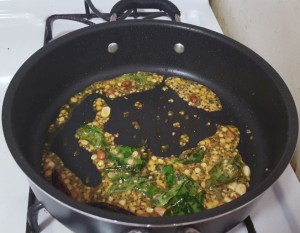 Then add the finely chopped onion and continue sautéing for a few more minutes until the onion turns golden-brown.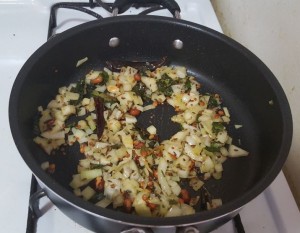 Then add the powdered spices (turmeric, chili powder, salt and subzi masala) to the kadai and stir for an additional minute. You may use sambar powder instead of subzi masala also.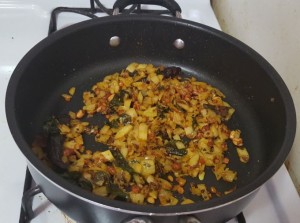 Now add the chopped okra and mix well until the okra pieces are uniformly coated with spices. Reduce heat, cover and continue cooking for 4-5 minutes, stirring occasionally, until the okra becomes tender.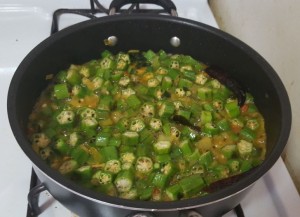 Then add the most of the grated coconut (leaving some for garnishing) and mix well. This step may be skipped, as traditionally this dish is made without coconut, but I feel that it tastes better this way.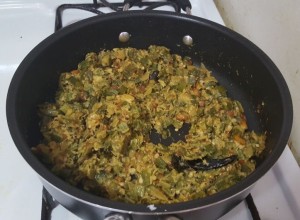 Remove from heat and transfer to serving dish. Garnish with grated coconut. Enjoy!